WELCOME TO OUR 1ST EVENING RECEPTION OF 2015!
IT'S YOUR CHANCE TO MEET FELLOW ENTREPRENEURS, LEARN ABOUT A VITAL ASPECT OF RUNNING A BUSINESS THAT'S OFTEN IGNORED…AND INDULGE IN SOME TASTY BITES!
Accessibility. It's a hot buzzword in the realm of business.
Did you know that according to the Canadian Association of the Deaf, roughly 1 in 10 Canadians are Deaf or Hard of Hearing? That's nearly 3.15 million people!
And while many businesses talk about being accessible, few have yet to put it into practice. HEATHER VINCE & KIMBERLY WOOD want to show you HOW, and more importantly WHY, accessibility is so important.
Bring along plenty of business cards and join Heather and Kim as they give a glimpse into living with hearing loss and the challenges of being a customer — which can help give your business a critical edge over your competition.
You'll learn about:
• How to make your business and website more accessible to people with hard-of-hearing.
• Discover the importance of captioning for video content and technology such as video-relay service and TTY.
• Learn some basic signs in ASL (American Sign Language) so you can get a head start on making your business accessible!
BE INSPIRED! There'll be ASL interpreting students on hand to interpret ASL to English and facilitate discussion.
GUEST SPEAKERS:
Heather works in publishing. She has a strong interest in accessibility and deaf rights as well as business and social entrepreneurship, which combined create opportunities to educate the public on the deaf experience and show businesses how they can be of value to the underserved market of people with disabilities.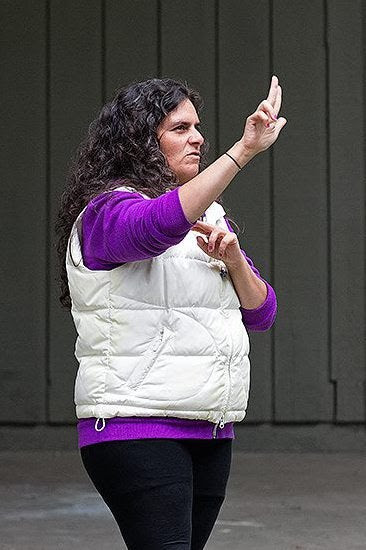 Kimberly Wood founded the Hands On Fun Club with Hands On Fun Week in August 2012 which provides workshops for the general public on American Sign Language and Deaf Culture. Kimberly also has done a lot of advocating in the community and helping Deaf and hard of hearing people break down the barriers that face them. Kimberly is VP of External Relations at the Greater Vancouver Association for the Deaf, and was a part of the BC-VRS (Video Relay Service) Committee.
Tickets: $10pp / $15pp at the door.
Price includes complimentary appetizers. Partial proceeds will go to support Surrey-based Hands On Fun Club.
RSVP at: http://www.meetup.com/SurreyBusinessMVPs/events/221660859/